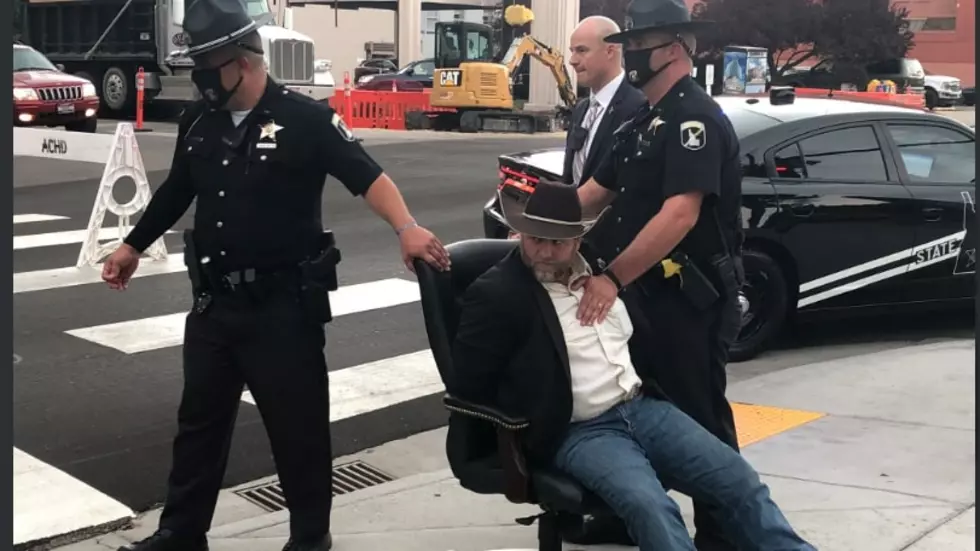 Ammon Bundy Files for Candidacy for Idaho Governor
Credit: Idaho Press Tribune
Do you remember the big case of "Swivel Disobedience"? Surely you do, as Ammon Bundy made national headlines for his arrest at the Idaho State Capitol just months ago. Of course, all of us here in the Treasure Valley and the greater State of Idaho are no strangers to Bundy's name--if anyone can get us some national attention, it's this man.
Labeled online as an "American militant", Ammon Bundy is best known for leading the occupation of the Malheur National Wildlife Refuge in 2016.  Most recently, however, we have grown used to seeing Bundy arrested for trespassing at the Idaho State Capitol --sometimes, being arrested more than once in a single day for just going back after being booked in. He has also been gaining attention along side controversial Ada County Commissioner Ryan Davidson's alleged attempt to have a judge make an exception for Bundy to appear in court without a mask.
Just discovered this afternoon, Ammon Bundy has now filed for candidacy to run for Governor of Idaho. Bundy has filed as a Republican and surely he will only add to the contention that the Idaho GOP is seeing early on to unseat incumbent Republican governor, Brad Little.  You can see all those from all parties who have began to file for office, HERE.
Oh, the drama, Ammon.
It's safe to assume he is no stranger to holding a seat at the Idaho State Capitol, as perhaps he's best known for being hauled out of the Capitol tied to a swivel chair by Idaho State Police.
Having been trespassed from the Idaho State Capitol building, at this time he isn't even allowed in the building in which his office, if elected, would be located in.
Surely, fireworks will be flying during these primaries--and in the mean time, allow me to remind you of the 2014 Idaho primaries which also made national headlines.
Someone, please call Harley Brown off of the bench.
LOOK: 50 essential civil rights speeches
Many of the speakers had a lifetime commitment to human rights, but one tried to silence an activist lobbying for voting rights, before later signing off on major civil rights legislation. Several fought for freedom for more than one oppressed group.
Keep reading to discover 50 essential civil rights speeches.
More From 104.3 Wow Country