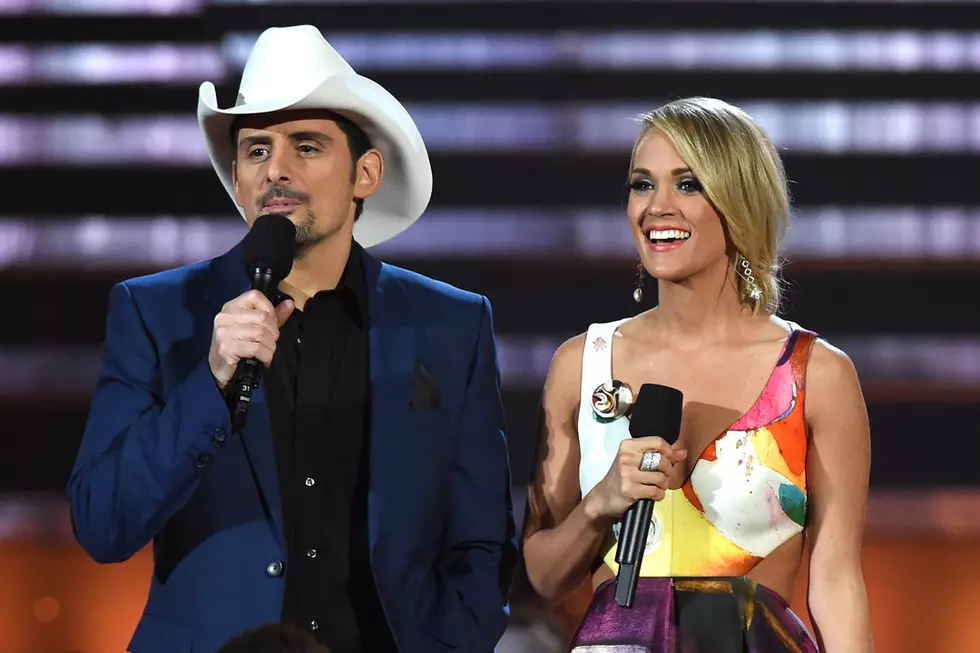 Brad Paisley's TV Variety Special to Feature Carrie Underwood, All-Star Guests
Rick Diamond, Getty Images
Brad Paisley is not co-hosting the CMA Awards in 2019, but he's not sitting around idle. The country singer returns to ABC in December in a variety special titled Brad Paisley Thinks He's Special, which will feature appearances from his longtime CMAs co-host, Carrie Underwood, and a long list of other celebrities.
Shot at Nashville's War Memorial Auditorium, the special will showcase Paisley's "signature humor, unexpected surprises, heartfelt field pieces and rousing musical performances," according to a press release. Guests include Kelsea Ballerini, Hootie & the Blowfish, the Jonas Brothers, The Bachelor host Chris Harrison, Peyton Manning, Tim McGraw, Darius Rucker, Underwood and more.
Paisley is not only hosting the special, but he also serves as an executive producer alongside Jane Mun, RAC Clark, Bill Simmons and Kendal Marcy. Sony Pictures Television is producing Brad Paisley Thinks He's Special, which is set to air on ABC on Tuesday, Dec. 3, beginning at 8PM ET.
Paisley has previously showcased his wit by co-hosting the CMA Awards with Underwood for 11 years, and he also tried his hand at stand-up comedy in a Netflix special titled Brad Paisley's Comedy Rodeo, which premiered in 2017.
The singer is also set to star in a new half-hour comedy series titled Fish Out of Water, which will air on Amazon's streaming service. Describing the show as a "Larry Sanders take on celebrity vanity projects," the Hollywood Reporter reports that Fish Out of Water will follow Paisley's character as he struggles to keep a small fishing show from turning into something comparable to the failed Fyre Festival.
Country's Best and Worst Actors? There's Plenty to Choose From: 
More From 104.3 Wow Country