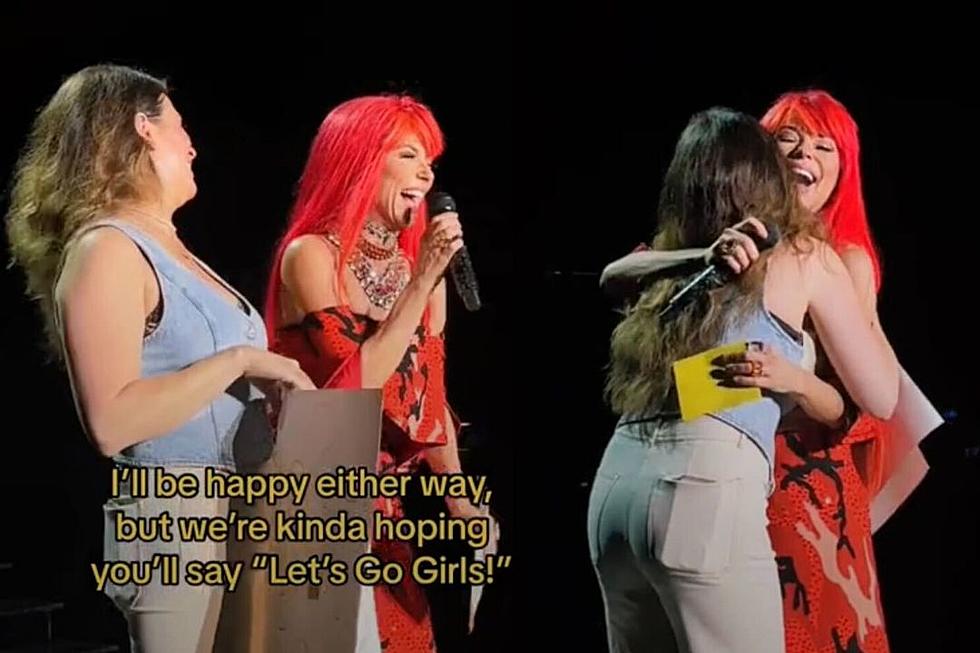 Shania Twain Does Her First-Ever Onstage Gender Reveal [Watch]
@ShaniaTwain, TikTok
With all of her accolades and albums sold, it's hard to believe that there's anything Shania Twain has yet to accomplish. But at a recent stop on her Queen of Me Tour in Toronto, Twain assisted in her first-ever onstage gender reveal.
The pop-country megastar spotted a sign in the crowd, reading "Shania, will you do my gender reveal?" and she was delighted.
"Do you wanna come up here? I feel so privileged!" Twain told the mother-to-be, who made her way to the stage, met by cheers. Twain seemed just as excited as the fan to assist in the gender reveal.
Hilariously, the expectant mother told Twain and the audience that she and her partner would be happy with either a boy or a girl, but that, "We're kinda hoping you'll say, 'Let's go girls!'"
The fan handed Twain an envelope, and the singer's drummer provided a well-timed drumroll as she opened it.
Instead of blurting out the results, Twain immediately went into her song "From This Moment On," changing the lyrics to reveal what everyone was waiting to learn:
"From this moment/ Life has begun/ From this moment/ You are the one/ Right beside you/ There'll be a girl!"

 
This was one of those moments that nobody can really plan for, but it all came together perfectly to create an amazing first-ever for Twain, and an exciting moment for the new mom.
Twain's Queen of Me Tour extends all the way through November, with has stops all over the the world.
Evan Paul is the host of Taste of Country Nights, a syndicated radio show heard on more than 120 country radio stations nationwide, every night from 7PM to midnight. He plays the best new country music and interviews today's top stars, like Luke Combs, Miranda Lambert, Dan + Shay, Keith Urban, Carrie Underwood, Luke Bryan, Chris Stapleton, Lady A, Morgan Wallen + more! 
PICTURES: Shania Twain Launches 2023 'Queen of Me' Tour
Shania Twain
launched her 2023
Queen of Me Tour
on Friday night (April 28) in Spokane, Wash., and pictures show one of the most elaborate productions of her entire career.
Top 25 Shania Twain Songs — Her Biggest Hits and Best Deep Cuts
Shania Twain
's best songs changed country music in ways never imagined before 1995. The superstar's career as a charting recording artist lasted less than a decade and included few accolades (including just one CMA Award) relative to her commercial success, but few female artists under 40 will fail to name her as one of three major reasons they chase this country music dream for a living. Perhaps only Dolly Parton is listed more frequently as an influence.
This list of Shania Twain's best songs considers commercial success, cultural importance, legacy and song quality. Scroll through to see which of her songs is No. 1 and click on any link to listen.
See Inside Shania Twain's Spectacular Beachfront Mansion
Shania Twain
owns a spectacular waterfront mansion in the Bahamas that offers plenty of time away from prying eyes.
The 5-bedroom, 6-bathroom, 7,000-square-foot mansion in the Bahamas is situated on a 1-acre lot that offers 150 feet of beachfront in the exclusive Old Fort Bay gated community in West Nassau. Its amenities include mahogany-lined walls and bookcases in the second-floor master suite, as well as spectacular ocean views.
The house also includes guest bedrooms with views of the beach and the canal, as well as a kitchen with a breakfast nook, butler's pantry and stainless steel appliances. That leads out to a covered outdoor patio and an access gate to the beach.
The luxury home's exterior amenities include a pool house with bathroom and shower facilities. There's also a guest apartment, a laundry room and a generator with an auto transfer switch. The property also offers the use of a dock slip that can accommodate a 40-foot boat.
More From 104.3 Wow Country