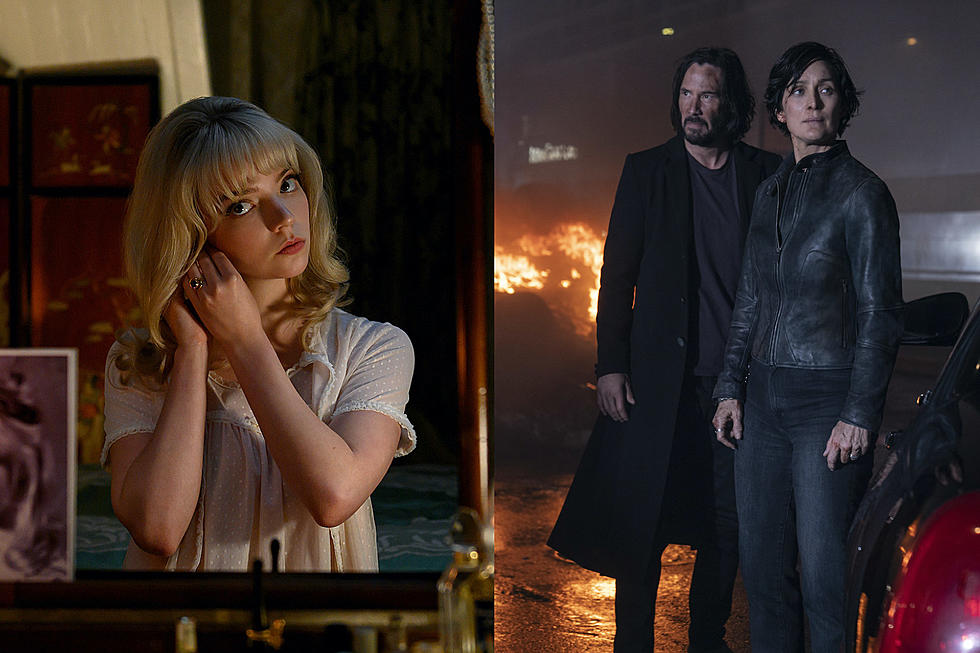 The Best Movie Trailers of 2021
Focus/Warner Bros.
In another time, the mass closure of movie theaters around the world would have destroyed the demand for movie trailers. These days, most trailers are consumed on computers or phones rather than in theaters — and now everything from television shows to video games to comic books get trailers. Even when the pandemic put much of the entertainment industry on pause, the trailers kept right on coming. So in addition to ranking the best movies and television shows of 2021, we decided to rank the best movie trailers as well.
Keep in mind that we're judging the trailers, not the movies — which in a couple cases on our list haven't even been released yet. As long as the trailer itself came out in 2021, it was eligible for inclusion. So whether they're still coming soon to a theater near you, or they're already available on streaming, here are the best movie trailers of 2021...
10.

The trailer for Jeymes Samuel's The Harder They Fall makes it look like one of the most stylish westerns ever created with a killer soundtrack and ... that's pretty much exactly what the movie is. Sometimes, there is truth in advertising.

9.

At this point, the Fast & Furious franchise arguably makes better trailers than movies. As movies, they need to have logical stories and convincing characters. As trailers, all they need is a succession of outlandish images and F9 has enough of those for like five movies: Helen Mirren drifting in London, super-powered magnets tossing cars around like juggling balls, the long-dead Han returning to life, and even a car flying into outer space. Stripped of context, these images become like pure visual poetry. Or at least pure visual magnetic poetry.

8.

A good teaser doesn't need to tell you anything about a movie beyond the basics of who made it, who's in it, and that it looks cool. The Tragedy of Macbeth teaser tells you who is in it, who made it, and makes the visuals look absolutely stunning. Even if you hate Shakespeare, or you don't care about the Coen brothers (or Joel, at least), this teaser is undeniably attention-grabbing.

7.

Another really powerful teaser, this one blending establishing shots of New York City with the early notes of the film's score, then building to that incredible overhead shot where the Sharks and Jets approach one another for their rumble and their shadows intertwine on the floor (where the phrase "A Steven Spielberg Film" has been added in CGI). Once I stop sobbing uncontrollably over RIta Moreno's rendition of "Somewhere" I will tell you more about why this trailer is so effective.

6.

At this point, sad covers of popular songs are such a cliché in movie trailers we've made four totally distinct lists of them on ScreenCrush. Every once in a while, though, a film uses the cliché so effectively, it reminds you why it became popular in the first place. This year, that film was Last Night in Soho. The trailer does a beautiful job of syncing the lyrics of the Petula Clark song "Downtown" with Edgar Wright's images. As a voice sings about the "music of the traffic in the city," Thomasin McKenzie crosses through a bustling London street; when the voice croons to "linger on the sidewalk where the neon signs are pretty," she passes under the neon sign of the Cafe de Paris. The very last moment of the trailer, where the image of a terrified McKenzie freezes and then cracks like a broken pane of glass, is also a nice throwback to the style of trailers popular during the era of giallo horror that Last Night in Soho used as its inspiration.

5.

David Lowery's The Green Knight contains 130 minutes of staggering imagery, so it's not necessarily difficult to craft a two minute teaser that makes it look beautiful. What's impressive about The Green Knight trailer is the way it juxtaposes those images; cutting from a wax seal to a circular skylight, or from the camera spinning behind Dev Patel's Gawain to someone defying gravity by diving upwards into pool of water. The voiceover by Sean Harris beckoning his "brothers and sisters" to "regale" him with a "myth" does a nice job of setting the mood as well. Combined with those imaginative visuals, it creates an irresistible urge to see the tale that follows.

4.

A new sequel 15 years after the nominal end of a franchise is always a dicey proposition. The first trailer for The Matrix Resurrections made it clear that whether the final film is good or bad (as of this writing, I still haven't seen it), it should be plenty interesting, updating concepts from the first Matrix for a modern context, and putting a gloss of contemporary visual effects onto Neo and Trinity's powers. It strikes just the right balance of showing you the characters, the world, the kung fu, while still leaving you clueless about what the heck is going on in its story.

3.

The true appeal of Jackass, even more than the outlandish physical stunts, is the feeling of camaraderie between the cast. More than a decade after the last film, that feeling is front and center in the Jackass Forever trailer, along with the sense that this is a happy reunion that you're going to want to be a part of. It's just that this reunion involves people being stung by swarms of bees and catapulted into the air by exploding toilets. Some reunions are like that, guys.

2.

This outstanding clip distills Lin-Manuel Miranda's film of Jonathan Larson's musical into about 110 seconds. It's cleverly edited to the sound of a ticking clock that gradually speeds up, because time is tragically running out for many of the characters in the story. The ticking gets faster and faster but there's no explosion in the trailer. For that, you have to see the movie.

1.

Licorice Pizza is a vibe movie; it's all about getting swept up in the feel of the Valley circa the early 1970s. There's not much of a plot beyond the tentative romance between a crafty teen and 25-year-old photographer's assistant; it follows the pair as they go on an episodic series of commercial and romantic misadventures, all while soaking up that Southern California atmosphere. And this trailer, set to David Bowie's "Life on Mars?" really nails all of that. Few trailers — from 2021 or any year — capture the essence of a movie so successfully.
More From 104.3 Wow Country