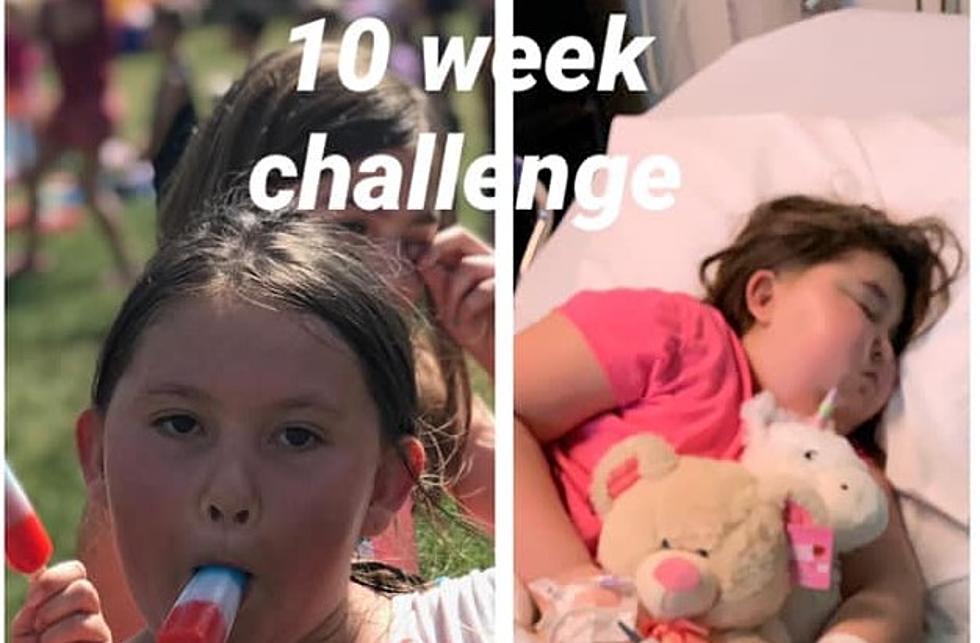 Become A Partner In Hope For 8-Year-Old Claire Of Eagle
Credit: Brett Elliott
8-year-old Claire Elliott of Meridian and Eagle, Idaho has gone through more than you or I could imagine in her short life.  Claire has DIPG (diffuse intrinsic pontine glioma) which is a rare tumor located in the middle of the brain.  DIPG is 100% fatal and most kids diagnosed pass on within a year, sometimes just a few months.
The effects of medication from DIPG take their toll.  Especially on 8-year-old kids.  This is just a 10-week difference for Claire.
Claire is why we join with St Jude and fight childhood cancer.  By calling 1-800-363-5334 you can become a Partner In Hope right now.  This girl is one of our own.  She lives with her dad in Meridian, Idaho and with her mom in Eagle, Idaho.  Claire went to Eagle Elementary School of the Arts before she physically couldn't attend anymore.  Claire loves going to the park, playing football with her dad, going to the movies at The Village, the BSU Broncos, and playing with friends.  Unfortunately, friends have dwindled as Claire and her family have been on this journey battling DIPG.  Parents are afraid to let their kids get too close to Claire because they know she most likely won't make it for even a few more months.  While I understand, it breaks my heart knowing this little girl's circle of friends have dwindled into just about nothing a time where she needs friends more than ever.
Physically Claire has changed significantly as well.  Imagine almost doubling your body weight in a matter of weeks because of the medication you're on.  As an adult, we have bones and muscles that have strengthened over the course of years to adjust but an 8-year-old does not.  Claire struggles to get out of bed, walking, and doing normal routine movements now because of the weight gain.
Claire's dad Brett has chosen NOT to tell her she's about to die.  He used to lie awake at night worrying and crying but Brett's come to understand that he needs to be there for his daughter every moment now of every day.  So he lets that pain go and lets the worry go and sleeps and focusses on those precious moments he still has with his little girl.  This allows him to be the best dad he can to his baby girl for as long as he can.
Brett told me that DIPG has been a blessed curse.  He's truly blessed now because of how he sees life.  He never sweats the small stuff.  He appreciates every little thing that almost all of us take for granted.  This is the gift his dying daughter leaves her daddy.  Now it's our turn to give to.  Please become a Partner In Hope in Claire's honor by calling 1-800-636-5334 or clicking the link below.  Do it for Claire.
More From 104.3 Wow Country