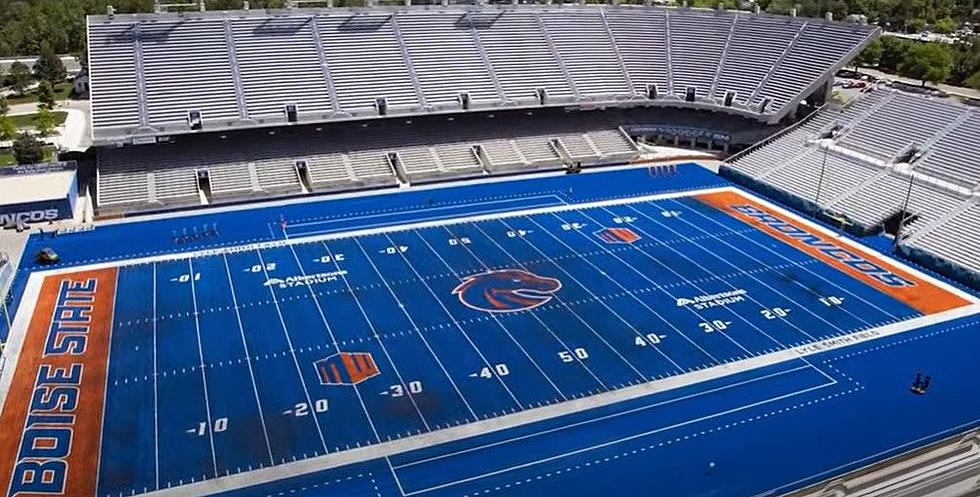 Shocking Reveal: Boise State's Blue Field Legal Dilemma
YouTube/ KTVB
Boise State is home to one of America's most outstanding college football attractions, the iconic Blue Turf. The field is so famous that thousands of football fans flock to see the area in person. Detractors describe the football field as the 'Smurf Turf,' although today's fans call it the Blue.
Boise State's dominance is so prevalent that they have a trademark on a blue football field. In other words, no school in the country can have a blue field, or they would violate the trademark. Boise State believes that the brand applies to all, not green fields. The trademark was granted to the school in 2008.
Sportico reports that most schools consult with Boise State seeking permission to use a different colored football field like the teal field of Coastal Carolina. Now SUNY Morrisville a division three football program in New York state has installed a 'black field' without consulting the Broncos.
The history of the Blue.
Boise State's Blue Field Celebrating 35 years
Brad Frazer, Boise State's outside legal counsel told Sportico in writing the view from Boise on whether there could be a legal issue.
"While Boise State has not yet opted to enforce its famous and registered blue turf trademark against any non-blue turf or other non-blue usage, a determination as to whether a non-blue usage rises to the level of trademark infringement requiring a license, enforcement or both is a case-by-case determination."
Sportico details that Boise State has granted permission for other college and high schools to use a different colored field. The agreements do not seem to focus on keeping the Blue in Boise protected from other imitators, there doesn't appear to be a monetary figure in these agreements.
The question is shouldn't someone in New York called Boise to avoid possible litigation?
8 Crazy Colorful Football Fields Boise State Approved
Everyone knows that The Blue is one of the most iconic fields in college football and there are a few colleges that wanted to jump on the bandwagon. In order to do that, they needed Boise State's blessing!
Boise State Football: 2023 Football Schedule
Here is the OFFICIAL list of home and away games for Boise State's 2023 football season!
More From 104.3 Wow Country