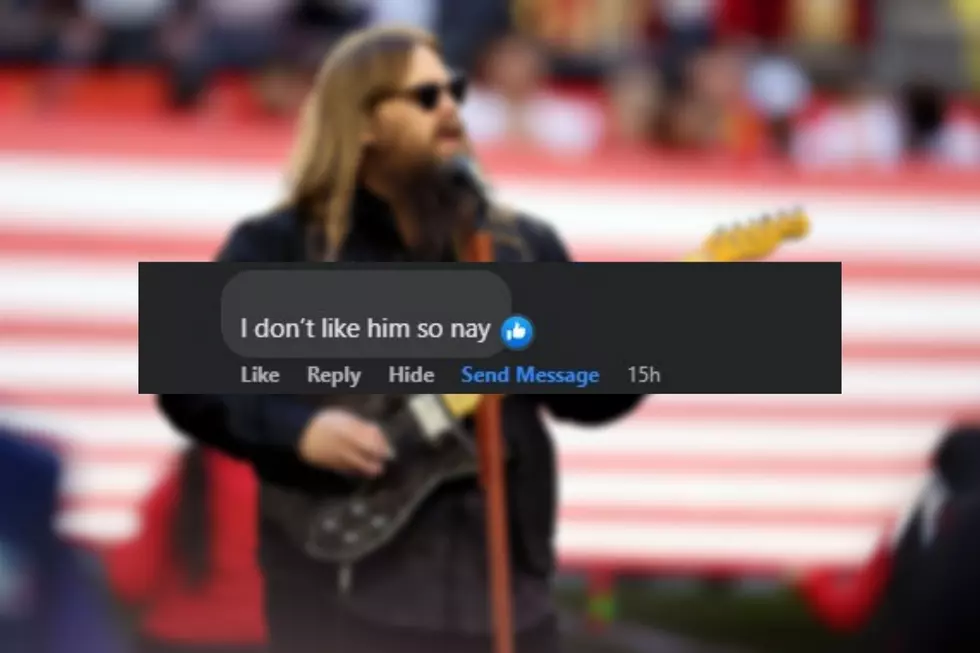 Not Everyone In Idaho Was Team Chris Stapleton At The Super Bowl
Canva
It's the only thing that I can remember from the Super Bowl LVII, Chris Stapleton's performance of the National Anthem. I certainly had goosebumps during his rendition of the National Anthem.
It was one of the best performances of the National Anthem that I have ever seen. Chris Stapleton brought out his Fender Telecaster electric guitar and his soulful vocals and delivered a National Anthem that brought people to tears! Including Eagle's coach Nick Sirianni.
Carly Pearce said it was "the most soulful National Anthem ever."
What did Idahoans think of Chris Stapleton's performance of the National Anthem?
Well, I took to Facebook and asked. I also got some answers that I was surprised to find out. So, as you look at the comments, you're going to notice that, for the most part, people who watched it loved it. But there are a couple who aren't fans. Someone in the comments said, "I don't like him, so nay" ma'am, you don't have to like someone to appreciate what they do. Just because you're not going to go to a Chris Stapleton show or even listen to his music doesn't mean you can't appreciate a moment like this.
Facebook Reacts to Chris Stapleton's National Anthem Performance.
"Chris Stapleton's performance of the Nationa Anthem, yay or nay?" Here are some of the answers.
Idaho Reacts to Rhianna's 2023 Epic Halftime Show
😍 After months of anticipation, Super Bowl LVII is well underway and another epic halftime performance is in the books!
At seven months pregnant, Rhianna floored fans when she entered the Cardinals' State Farm Stadium in an epic descent from the ceiling on a floating stage alongside an entourage of dancers clad in white puffer coats.
Just as you'd expect, Idahoans expressed their fair share of opinions on the superstar's unmatched halftime show on Twitter!
Scroll on for Idaho's reactions to the 2023 halftime show on Twitter! Keep scrolling for a gallery of photos that cover Rhianna's spectacular performance!
More From 104.3 Wow Country