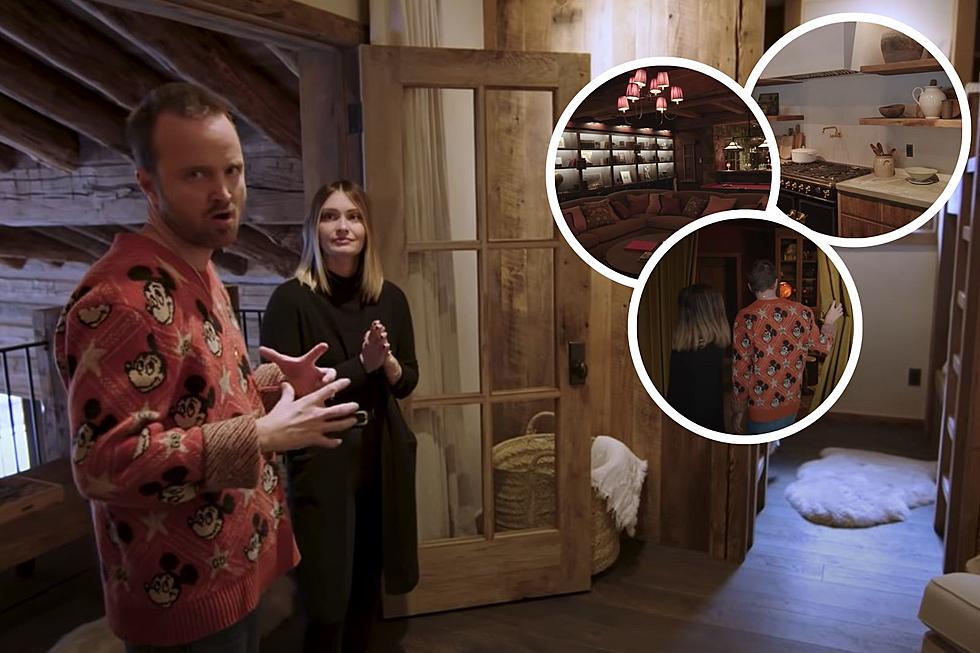 Take a Look Inside Of Arron Paul's Remarkable Idaho Dream Home
canva/youtube.com/@Archdigest
Is this Aaron Paul's dream home? No idea, but I can tell you that his Idaho home is truly one of a kind. This custom-built home will take you on a journey from the massive stone fireplace to the house's concert counters and the basement's speakeasy.
It took three years to have the home built. Aaron and his wife found barns in Wisconsin built by the Amish over 120 years ago and used the wood. The massive stone fireplace you'll see in the pictures below was craned in before they could assemble the roof. Everything has a specific meaning or reason, from the primary suite to the media room and the peacock in the dining room.
My favorite room is what they call "The Raven's Den." It has this speakeasy vibe with a whiskey lounge, pool table, and bar where Aaron whips up some smoked cocktails. In the video that Aaron and his wife Lauren did with Architectural Digest, he mentions that they made it challenging to get Wifi in "The Raven's Den" on purpose. I love that it's a place where they want people to come together, put their phones down and have great conversations.
The house includes a bunkhouse with a bunk bath, and if you're a parent, you will love this space. With a wet and dry sauna, Aaron tends to run out to the river when it's freezing and back into the warmth of the sauna. From the video, I don't think Lauren is on board with jumping into the freezing river just yet.
Words can't explain how beautiful this home is, so take a look at the pictures below, and if you want a full tour of the house from Aaron and Lauren, you can watch the video if you keep scrolling.
Inside Aaron Paul's Rustic Idaho Home
Aaron Paul gave Architectural Digest a tour of the home he had built. The video on Youtube has had over 17 million views in 3 years. Keep Scrolling to watch!
6 Ways Aaron Paul's Wife Fights Bullying with Kindness
CAMPAIGNING to find kind
Cofounded by Lauren Paul and Molly Thompson, the
Kind Campaign
challenges school-age girls "to put an end to the hate and find kind" in classrooms across the nation.
Inside Aaron Paul's $1.3 Million Boise Home
The Frank Lloyd Wright-inspired home has a 360-degree fireplace and geothermal mineral spring. Take a look inside!
More From 104.3 Wow Country