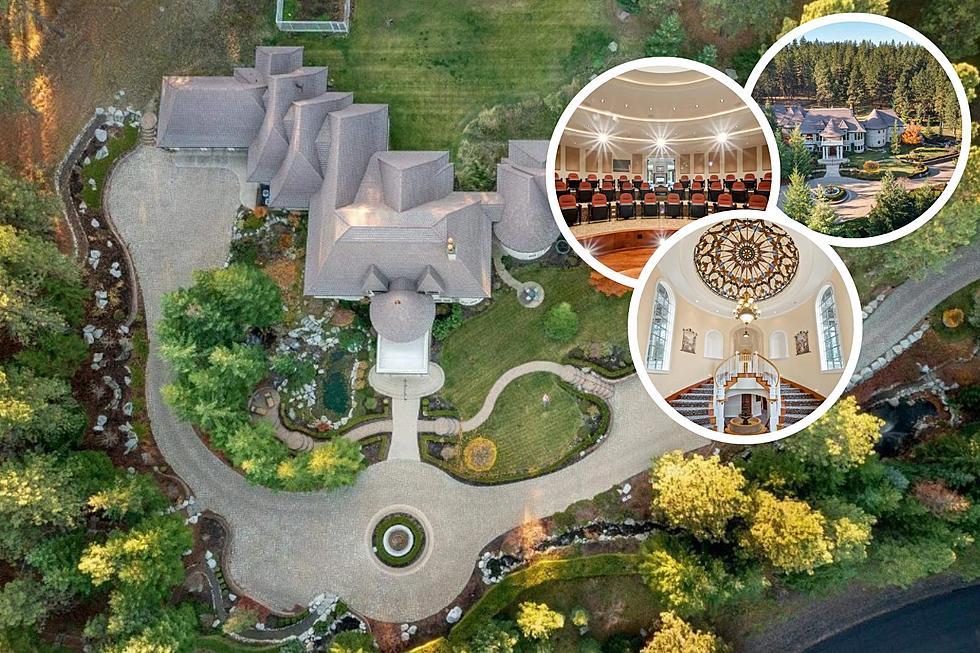 This Astonishing $3 Million Spokane Home Is A Masterpiece
Mike Bass/Century 21 Beutler & Associates
As we wait for spring to show its face, will we see a trend in more homes on the market and homes being sold as the weather warms up? Rocket Mortgage says, "During spring, inventory is plentiful, but competition among buyers may cause prices to rise." 
This house in Spokane, Washington, has been on the market for over 175 days. But that doesn't mean that it's not an incredible property. The house has a theatre room with a stage for up to 32 people. As you walk into the home, you're greeted with a grand foyer with mirror staircases & a fountain. You'll also have the luxury of using the in-home elevator, a domed glass ceiling, and stunning box-beam ceilings throughout the house. 
Before we get to the exterior features, this home was built in 2005 and is inside a gated community. The house is 12,808 sq. ft. with five bedrooms and nine bathrooms and is a Jon Saylor masterpiece. 
Writing about this home won't do any justice. Instead, you have to see the pictures. 
The realtor mentions in the description that "throughout the property, you will find Arcustone, Cherrywood, Mahogany, Granite, Travertine and elegant designer wool carpets." They also share, "outdoor spaces also allow for entertainment venues, beautiful terrace, waterfalls and private grounds with a motor-court area."
Again, the home has been on the market for over 190 days and is listed for $3,190,000. At one point, it was listed for $3,900,000 in February 2022. I don't think you're going to get into a bidding war for this home. You need to be able to afford the mortgage payment.
$3M Home In Spokane Washington
$3,190,000
5 Bedrooms
9 Bathrooms
12,808 Sqft
8.79-acre lot
$50M Over-the-Top Utah Mansion You Have To See To Believe
Scroll on for a look at what a lot of imagination and a $50 million-dollar home construction budget can get you in the state of Utah!
More From 104.3 Wow Country