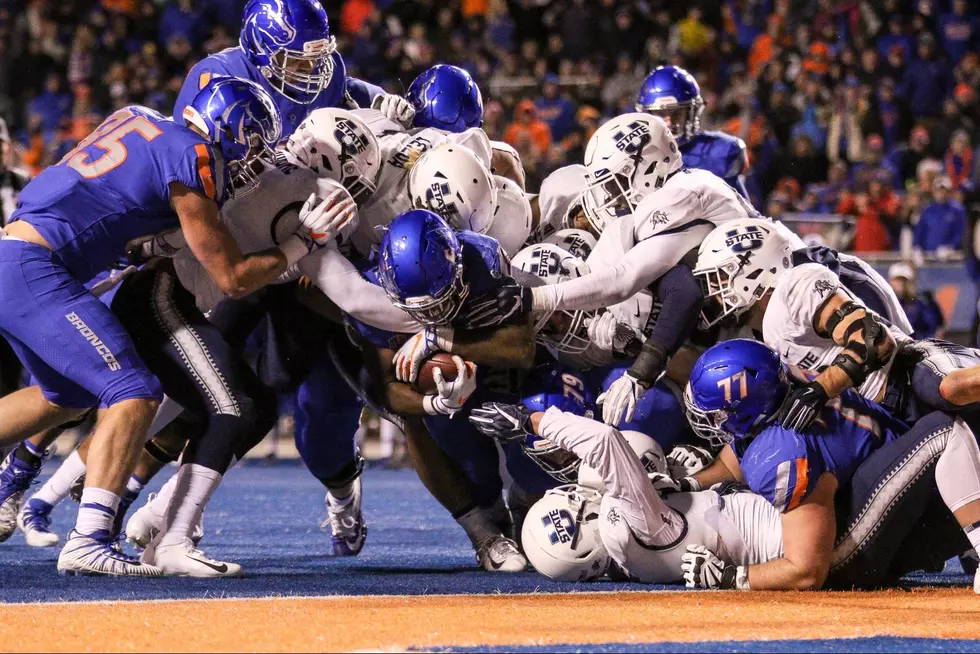 Why BSU Is Top Dog In The Mountain West Conference
Credit: Loren Orr / Getty Images
Say what you want about the BSU Bronco football team.  The fact is, they get it done, year after year after year.  Saturday night's game against the #14 ranked Utah State Aggies was one for the books.  We knew it wouldn't be easy.  Utah State had won 10 games in a row which almost NEVER happens in Division 1 NCAA football.  But the Boise State Broncos were ready.
So why did BSU win this game?  Are we just better?  Was it quarterback play, defense, special teams or did we just get lucky?  Boise State won this game because we have a VERY special running back.  This guy's name is Alexander Mattison and he ran for more than 200 yards.  Mattison gets it done time after time after time.  No question, Rypien is solid and continues to take care of business and yes, his role is absolutely 100% crucial but Mattison is the magical piece that makes that offense work.
Boise State has now won seven straight games and gets Fresno State at home here in Idaho for the Mountain Wes Conference Championship, a rematch of last year's championship.
I don't know if it's a good thing or a bad thing that we put the smackdown on Fresno State earlier this season.  You can look at that either way.  We may come in too confident or that confidence may be what we need to step up and put the smackdown on the Bulldogs for the second time this season.  Our first game ended up in a 24-17 victory.  Fresno State was ranked at the time and in some polls have currently slipped back into the top 25 after their loss a few weeks ago.  They have a 10-2 record with only two losses... both close scores.  The first was to Minnesota, 21-14 in only the second week of play and the second was to BSU on November 9th.  One keynote... Fresno State beat San Diego State who was the only MWC team to defeat BSU this season.
BSU VS FRESNO STATE
***** SATURDAY, DECEMBER 1st, 2018
***** AT ALBERTSONS STADIUM IN BOISE, IDAHO
***** BROADCAST LIVE ON ESPN
More From 104.3 Wow Country