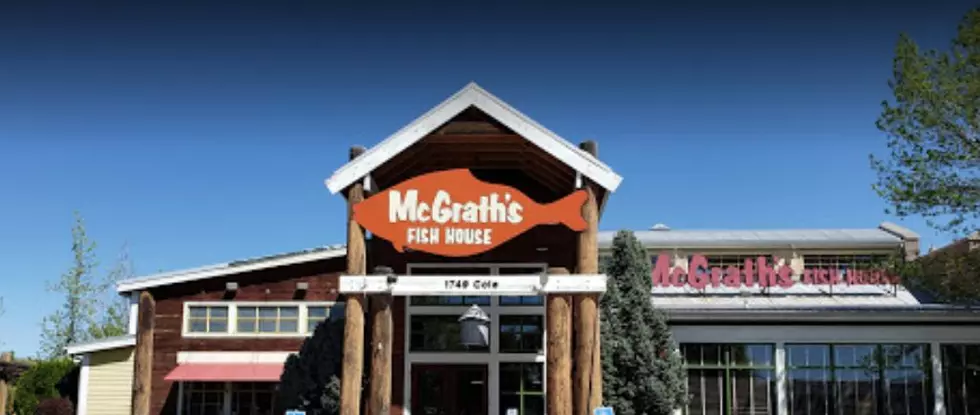 More Boise Restaurants Closing Permanently Due to Pandemic
Credit: Brittany Aldrich-Kent via Google images
After more than 22 years McGrath's Fish House on Cole Road is closing permanently. They opened in 1998. They are having a liquidation auction online to sell 286 items from the kitchen and dining area. Here is the link... Hop on asap though because the bidding has already begun and it wraps up tomorrow (December 16th) at 1pm. At that point, items have one minute to receive bids, or they close. If you have ever been into McGraths you know that there is some cool stuff from the restaurant that is in the auction.
A couple more restaurants have sadly made public announcements about closures as well. El Gallo Giro Mexican Restaurant is closing its downtown location on December 23rd but so far plans to keep its Garden City and Meridian locations open.
Enter your number to get our free mobile app
Kiwi Shake & Bake also in downtown has been around for about 2 years but is not able to make it through the pandemic. "It is with heavy hearts that we are writing this post," Kiwi Shake & Bake explained on Facebook. "Unfortunately COVID-19 has not been kind to us and we are closing our restaurant doors on Dec. 20! We wanted to thank everyone for your support and take this time to say we've had a blast meeting you all since we opened on Dec. 20, 2018, and we really hope to be able to have a beer/drink with you all before we close. We will still be around, though, so fear not, you can still get your meat pie fix, we will just be having a small service kiosk at our commercial kitchen off of west State Street!"
Many restaurants are reporting only 30% - 50% of revenue compared to last years numbers. That is just not enough for many of the local places to keep the doors open and keep staff sustained. They could hobble through a few months, but no one expected the pandemic to last this long or be this devastating and the restaurants simply cant keep up. If you are able please support your local restaurants as much as possible. Take out or anything will help keep them going.
THESE ARE THE HIGHEST-PAYING JOBS IN BOISE