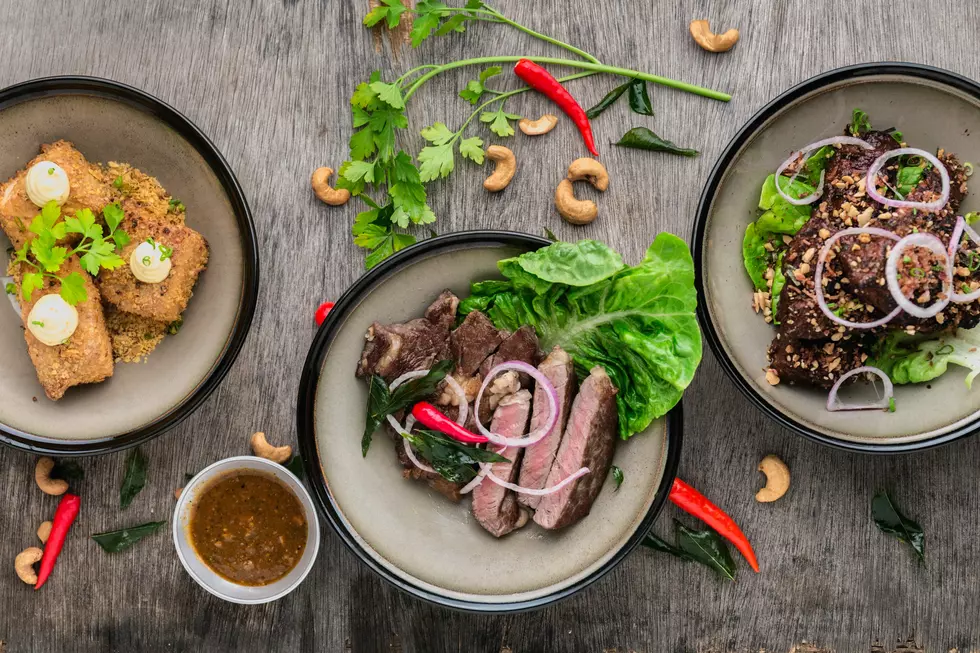 Boise's Best Delivery Food
Photo by Lily Banse on Unsplash
There is at least once, maybe twice a week when cooking just is not something that I am interested in... like at all. Either that or I honestly just don't have time. We seem to almost always rotate between the same couple of delivery options. I was on a mission to find better delivery options in the Boise area. Keep in mind I kept pizza out of this one as best pizza places is it's own thing entirely. I am going to share my findings with you.
Here are the top 5 according to Yelp's local reviews:
1. Cucina Di Paolo - 1504 S Vista Ave Boise, ID 83705 - (208) 345-7150  - cucinadipaolo.com  About the restaurant from the website: "Our mission is to provide you with freshly prepared, flavorful, and tasty food that is conveniently packaged for you to take home and heat and serve. Our main focuses are classical regional Italian cuisine and Northwest American comfort food, where we utilize only the freshest available ingredients from as many local producers and farmers as possible." Check out the Yelp page here 
2. Brother Brown's Underground - 1118 W Idaho St Boise, ID 83702 - (208) 249-9218 - brotherbrownsbbq.com  Here is a Yelp Review from Jody in Boise, "Brother Brown's is open for dine in and carry out. Brother Brown puts his soul into his food and provides BBQ not easy to find in Boise. He wants to make sure his diners are happy. Today we had beef ribs and last time had the pulled pork. Yummmmmy. And, since he serves out of The Oasis, you have access to a full bar!" Check out the Yelp page here
3. Han's Chimaek - 1716 S Broadway Ave Boise, ID 83706 - (208) 994-4945 - hanschimaek.com Here is a little information from the Business owner as posted on Yelp, "We have by far the best Korean Fried Chicken in Boise area. Not only do we believe so, but our customers say it more strongly. We kept our menu simple, so we can keep up the best quality possible. Every sauce is made in the house, and the chicken is provided by a local vendor as well. If you haven't already tried it, we strongly recommend you to do so, and we're sure you'll be satisfied." Check out the Yelp page here
4. Mount Everest Momo Cafe - 2144 S Broadway Ave Boise, ID 83706 - (208) 342-1268 - boisemomocafe.com Here is some info about the restaurant from the restaurants website, "Nepal- A land of colorful diversity, in its culture and cuisine. Now, Mount Everest Momo Café brings you a taste of the country's rich culinary heritage with a delicious variety of recipes, painstakingly gathered from the royal kitchens of Nepal to the swept shores of South India. These recipes offer a truly delightful Nepali experience. Himalayan, Nepali, Tibetan and Indian food." Check out the Yelp page here
5. Mai Thai - 750 W Idaho St Boise, ID 83702 - (208) 344-8424 - maithaigroup.com Here is info about the restaurant that the business posted on the yelp page, "Come experience the best of Thailand at our downtown Boise, Idaho location. Check out our exquisite dishes by Thai chefs, exotic dining rooms with tranquil waterfalls, plus a full bar featuring irresistible cocktails and an eclectic selection of fine wines!" Check out the Yelp page here
Now that we have the top 5 from Yelp, lets take a look at what the top 5 from Google reviews for Delivery in the Boise area:
1. Tarbush Kitchen LLC - 4.8 Stars - 5749 W Overland Rd, Boise, ID 83705 - (208) 917-0772 - tarbushkitchenidaho.com This place is known for its incredible Mediterranean food. There is a note that they are closed until April 13th because the main chef is recovering from surgery. They are worth the wait, so keep this one bookmarked!
2. Lemon Tree Co. - 4.7 Stars - 224 N 10th St, Boise, ID 83702 - (208) 343-6167 - lemontreeboise.com "Lemon Tree Co. is an artisan sandwich shop in the heart of downtown Boise, offering specialty lemonades and sandwiches - with a twist."
3. Kibrom's Ethiopean & Eritrean Food - 4.7 Stars - 3506 W State St, Boise, ID 83703 - (208) 917-8005 - kibromsfood.com "Traditional Ethiopian cuisine, including vegan & vegetarian fare, served in a laid-back atmosphere."
4. Kabob House - 4.7 Stars - 9140 Emerald St, Boise, ID 83704 - (208) 323-1112 - facebook.com/BoiseKabob "Enjoy cuisine representing thndary Khyber Pass, with an extensive menu of Persian, Afghan, Indian, and Central Asian dishes. From our variety of namesake kabobs, to traditional stews, curries, and unique Afghan recipes, Kabob House offers an ethnic food experience like no other in the Treasure Valley, prepared and served in a decor that blends traditional motifs with comfortable ambiance and attentive service."
5. Manfred's Kitchen - 4.7 Stars - 1114 W Front St b, Boise, ID 83712 - (208) 343-7202 - manfredskitchen.com Google Review, "This place is incredible. Inventive, fun, delicious, satisfying food served up quickly by friendly folks. This is the best of Boise."
LOOK: Here are copycat recipes from 20 of the most popular fast food restaurants in America