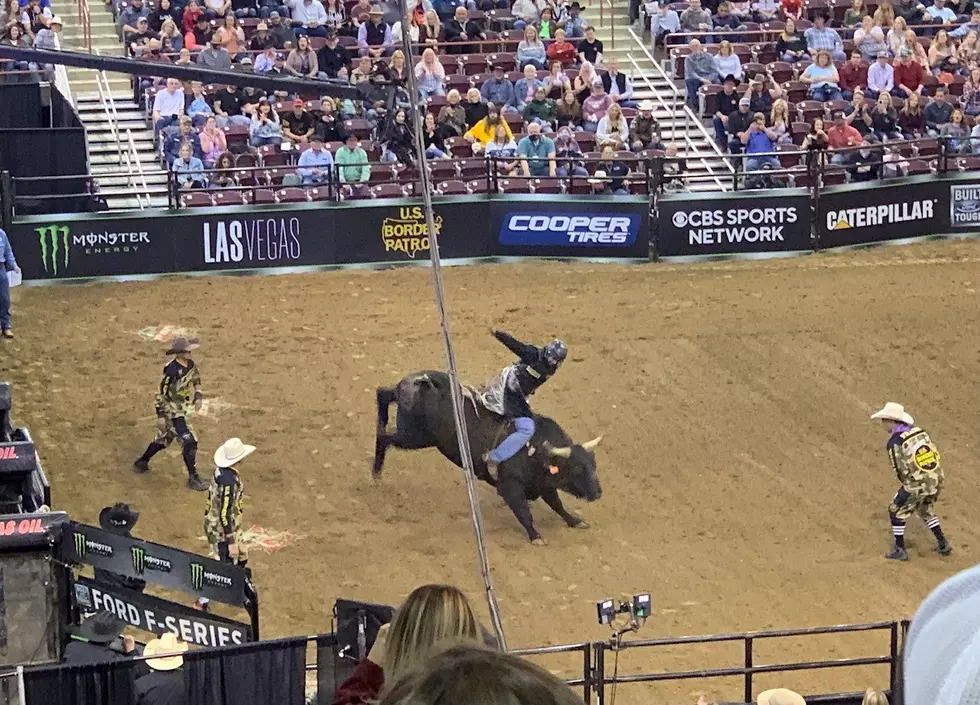 Epic PBR Bull Ride Made My 7yr Old Say "I Felt That in my Heart!"
Professional Bull Riders in Nampa - Photos by Nikki West
Professional Bull Riders were back in Nampa and finally in front of a decent crowed. The air was full of excitement as the stands filled with boots, hats and everyone ready to have a good time. Concessions were busy and beer was flowin'. Kris, Titus and I went on Saturday night. We got there as it was hailing but got in and found our seats quickly. Our family went when PBR was at Nampa's Ford Idaho Center in October. In the fall the stands were only sold to like 30% - at least by looks of it. This time was different though.
Just by glance it looked like the opposite, with maybe only 25 to 30% being empty and over 70% full. There was a whole different vibe in the air as people were seeing friends and enjoying some amazing bull rides. I grew up in Tucson Arizona and my family, friends and I never missed a rodeo. To be able to share the experience with my 7 year old Titus with Professional Bull Riding in Idaho is pretty special. The experience was pretty special for him as well.
The winner of the night was Kaique Pacheco riding The Right Stuff Bull. We could all see right away that this was an epic ride. One that literally gives you a rush just from watching. When the 8 seconds was up flames flew from the center stage and the crowed erupted. All before his points were announced everyone knew we had just seen something special. My 7 year old was clearly moved by it and sincerely proclaimed to Kris and I, "That was so amazing I felt it in my heart!" - Us too buddy, us too.
Kaique Pacheco won 1st place with that ride with an amazing 90.2 points, The Right Stuff scored 45.75 points from the ride. Runners up were as follows:
2nd - Jose Vitor Leme
3rd - Dener Barbosa
4th - João Ricardo Vieira
5th - Mauricio Moreira
Professional Bull Riders in Nampa
LOOK: Stunning animal photos from around the world
From grazing Tibetan antelope to migrating monarch butterflies, these 50 photos of wildlife around the world capture the staggering grace of the animal kingdom. The forthcoming gallery runs sequentially from air to land to water, and focuses on birds, land mammals, aquatic life, and insects as they work in pairs or groups, or sometimes all on their own.